---

Stephanie E. Gaus, PhD, MMSc - Specialist

Stephanie joined the Seeley lab in October 2007 as an Associate Specialist. Her background is in sleep and circadian rhythms research, including neuroanatomy. She completed a doctorate in neurobiology (CB Saper, Harvard University), a master's in medical science (Harvard Medical School), and a postdoc focusing on narcolepsy (E Mignot, Stanford University/Howard Hughes Medical Institute). In the Seeley lab, Stephanie is helping to characterize von Economo neurons in health and disease. Using immunohistochemical and molecular biological techniques, Stephanie is exploring the normal and pathological neuroanatomy and pathology of these neurons.
---
Alissa Nana, PhD - Specialist 

Alissa joined the laboratory in 2011 as a post-doctoral fellow. Her background is in neurodegeneration research. Alissa completed a BSc degree with honors in biomedical science and a PhD degree in anatomy from the University of Auckland, New Zealand, where she investigated the variable pattern of cortical neuronal loss in Huntington's disease. In the Seeley lab, she is investigating the selective vulnerability of von Economo neurons (VENs) in frontotemporal dementia.
---
Sarat Vatsavayai, PhD - Specialist

Sarat Vatsavayai received an MSc degree in Human Genetics from Andhra University, India. He then did his doctoral work in the field of Huntington's disease at the Open University, UK, where he was charactering a novel mouse model and was trying to find out if DNA repeat instability could modify disease progression. In July 2013, he joined Dr. Seeley's lab and is studying the molecular basis of C9ORF72 mutation in frontotemporal dementia and amyotrophic lateral sclerosis.
 
---
Salvatore Spina, MD - Assistant Professor 

Dr. Spina received his medical degree from the University of Catania, Italy. He completed a neurology residency at the University of Siena, Italy from which he also obtained his doctorate degree on mechanisms of neurodegeneration. He was trained in neuropathology of dementia syndromes at the Indiana Alzheimer Disease Center, Indianapolis in the laboratory of Dr. Bernardino Ghetti. Later, he completed an internship in internal medicine and a neurology residency at Indiana University. Dr. Spina's research focuses on the clinicopathologic and genetic correlations in neurodegenerative dementia syndromes, with a special interest on frontotemporal lobar degeneration. He has been awarded the Best Young Investigator Award from the European Confederation of Neuropathological Societies (Euro-CNS) and the Hellenic Society of Neuropathology.
---
Norbert Lee - Staff Research Associate

Norbert Lee joined the lab as a Staff Research Associate in 2010. He assists with brain banking and other histology technician responsibilities.
---
Ji-Hye Lee Hwang, PhD - Specialist

Ji-Hye joined the lab in March 2013 as a research associate and assists with human neuropathological experiments. She holds a Ph.D. in neuroscience from Eulji University School of Medicine, South Korea, where her focus was on the histopathology of Alzheimer's disease. Before joining the Seeley Lab, Ji-Hye served as a researcher at DGIST (Daegu-Gyeongbuk Institute of Science & Technology), South Korea.
---
Deion Cuevas - Staff Research Associate

Deion joined the lab in July 2019 as a research associate and assists with immunohistochemistry, cryosectioning, and the brain bank for various projects. He received his BS in Biology and BA in Anthropology at the University of California, San Diego. During his time there, he was a lab assistant in the Lab for Human Comparative Neuroanatomy where he studied neurodevelopmental disorders. He focused on the GABAergic system within the striatum in postmortem human individuals with Williams Syndrome.
---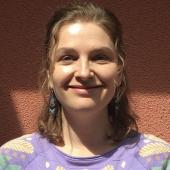 Sula Litvin
Sula Litvin - Staff Research Associate
Sula joined the lab in May 2020 as a research associate and assists with immunohistochemistry and the brain bank for various projects. She completed her postbaccalaureate in Neurobiology from the University of California, Berkeley in 2020, following a career in International Affairs in Washington, DC. She received a BA in Liberal Arts from Sarah Lawrence College and MA in History at the University of Toronto. At UC, Berkeley she volunteered in The Kaufer Lab as a lab research assistant investigating molecular events underlying brain plasticity and deterioration in rats and mice resulting from various forms of stress.